Meet Jamey & Lois…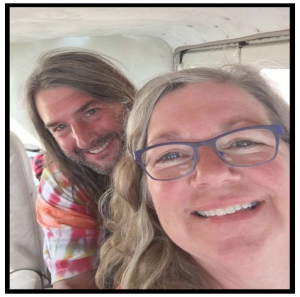 Jamey & I opened the Agate Cross B&B in July of 2011.  We are almost up to our seventh year anniversary and it has been a blast!  We love our job and love what we do.  Our guests enjoy a delicious, hearty and healthy breakfast to get them started on their adventures for the day!  Jamey loves to enjoy many outdoor sports and we both love to go on adventures throughout the year – especially in Winter!  Come UP and stay with us, eh!
Some of the things we offer:
Wifi
Open all year
Cable TV
Outdoor grills and picnic tables
Wooden swing
Heated garage for outdoor gear in the winter
Small refrigerators in each room
Firepit
Handicapped accessible
Our check-in time is between 4 and 6 pm.  We need at least 24 hours advance notice for a late check-in. We may not be here after six pm and that will be inconvenient for everyone involved.  If we do not make arrangements in advance there will be an automatic additional charge of $30 for the late arrival.  Check out is 10:30 am.
We have a two-week cancellation policy.  You will receive your full deposit with two weeks or more notice of a cancellation. We are happy to accommodate any special dietary needs.  Please let us know at least one week prior to your arrival so that we are prepared for your dietary requirements. 
We look forward to welcoming you.
No smoking and no *pets, please.
Thank you!!!
*Pet Policy:
We own two dogs and they do not go into the guest bedrooms.
No Pets other than documented therapy dogs will be allowed at Agate Cross B&B.  We have one room designated for documented therapy dogs and we need to know at the time of booking the reservation if you plan to bring one.